26th Annual Downtown Alameda Classic Car Show
12 October, 2019 10:00 AM
Park Street

Alameda

,

Alameda

,

CA

94501
This event has been viewed

52

times
26th Annual Downtown Alameda Classic Car Show
Classic cars of every description will line up in Downtown Alameda along Park Street between Encinal Ave and Buena Vista Ave – antique roadsters, coupes, hot rods, muscle cars, and much more. Car enthusiasts will be able to get a close look at makes and models from another era.
Want to hear the engines rev? Come watch the cars arrive and parade down the street to their assigned parking spots between 7:00am and 9:00am.
Admission to view the cars is FREE.
Details For Entering a Car:
This event is for pre-1987 classic vehicles.
Registration Fee is $35. Each entrant receives a t-shirt, dash plaque, and goodie bag. (Additional t-shirts are $15 purchased in advance.)
CLICK ON THE GREEN "TICKETS" BUTTON TO REGISTER YOUR CAR.
Deadline for pre-registration is September 13. Pre-registration is strongly advised as space is limited and fills up fast. Last year we closed registration 6 weeks before the event! If space is still available, registration will be accepted on day-of-show with a $45 fee. *Paper applications are available upon request.*
Parking for registered vehicles begins at 7:30am. Entrant must check-in by 9:15am or space will be released to the waitlist. Stand-by registration waitlist will be taken starting at 7:00am (first come, first served).
Parking is pre-assigned and you will be given your space number at check-in. If you would like to park together with club members or friends, agree on one Group Name and submit the same Group Name on each registration.
The show ends at 4:00pm. Please plan to stay for the duration of the event.
Registration fees are non-refundable. Event to be held rain or shine.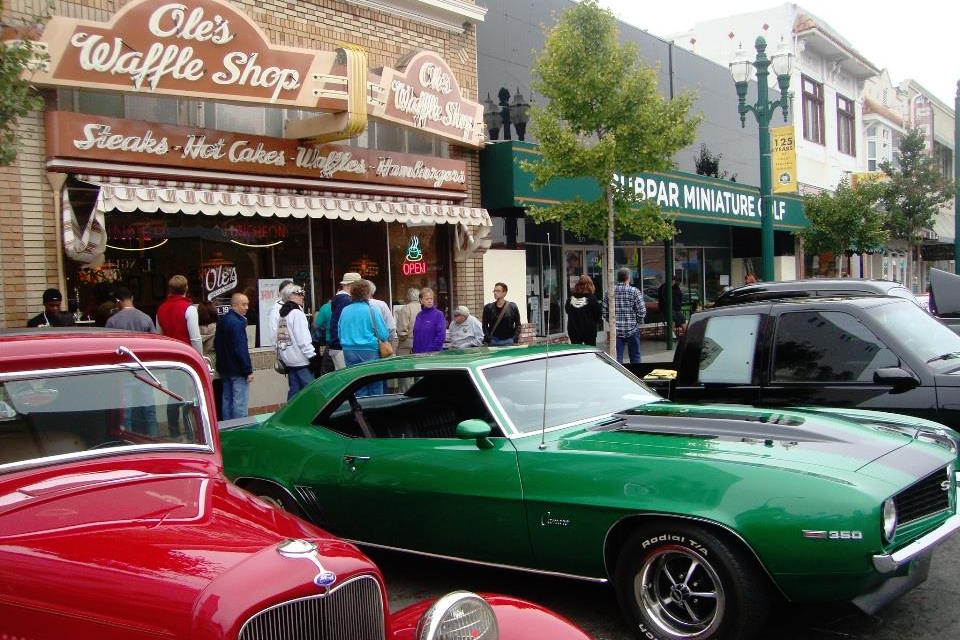 Share your reviews about 26th Annual Downtown Alameda Classic Car Show
Tickets also available for
ICC (India Community Center), Mil...

Golden India Restaurant, Fremont,...

Gale Ranch Middle School, San Ram...

Woodside High School Performing A...

Hart Middle School, Pleasanton, c...

Chabot College Performing Arts Ce...

SVN West, San Francisco, CA

Great American Music Hall, San Fr...

Rickshaw Stop, San Francisco, CA

Hilton San Francisco Union Square...

Fort Mason Center for Arts & Cult...

Herbst Theatre, San Francisco, CA

Palace Of Fine Arts, San Francisc...

The Midway, San Francisco, CA

The Great Northern, San Francisco...

GitHub, San Francisco, CA

Treasure Island, San Francisco, C...

Sebastian Questa School, San Joaq...

Centerville Jr High School, Fremo...

Centerville Jr High School, Fremo...

Windemere Ranch Middle School, Sa...

Pleasanton Middle School, Pleasan...

West Valley Community College Lar...

Swedish American Hall, San Franci...

Event Center Arena, San Jose, CA

Bar Fluxus, San Francisco, CA

The Chapel, San Francisco, CA

Neck Of The Woods, San Francisco,...

The Chapel, San Francisco, CA

The New Parish, Oakland, CA

Salesforce Park, San Francisco, C...

White Lotus Banquet Hall , Citrus...

The Midway, San Francisco, CA

SS Jeremiah OBrien, San Francisco...

Hilton Santa Clara, Santa Clara, ...

Hindu Community and Cultural Cent...

Fremont High School, Sunnyvale, C...

Bar Fluxus, San Francisco, CA

MEZZANINE, San Francisco, CA

Neck Of The Woods, San Francisco,...

Great American Music Hall, San Fr...

Herbst Theatre, San Francisco, CA

Festival Pavilion, San Francisco,...

Marines Memorial Theatre, San Fra...

India Community Center (ICC), Mil...

The Castro Theatre, San Francisco...

Bar Fluxus, San Francisco, CA

San Francisco County Fair Buildin...

Chabot College Performing Arts Ce...

Santa Clara County Fairgrounds, S...

Neck Of The Woods, San Francisco,...

Miner Auditorium, SFJAZZ Center, ...

Great American Music Hall, San Fr...

The Park Central San Francisco, S...

Ernst and Young, San Francisco, C...

GitHub, San Francisco, CA

San Jose Civic Center, San Jose, ...

Bar Fluxus, San Francisco, CA

The Midway, San Francisco, CA

The San Francisco Belle, San Fran...

Chabot College Performing Arts Ce...

Chabot College Performing Arts Ce...

Great American Music Hall, San Fr...

Neck Of The Woods, San Francisco,...

Hyatt Regency San Francisco Airpo...

Great American Music Hall, San Fr...

The New Parish, Oakland, CA

Great American Music Hall, San Fr...

Oak Grove High School Theatre, Sa...

Mehran Restaurant, Newark, CA

Event Center Arena, San Jose, CA

San Jose Center for the Performin...

Chase Center, San Francisco, Cali...

Golden 1 Center, Sacramento, CA